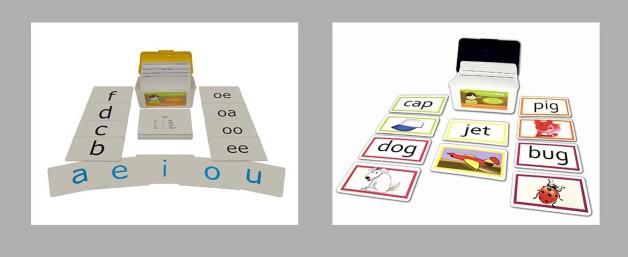 Although instructions are included with the purchase of every set of Success Reading phonics cards, sometimes watching a video can be very helpful. Below are the links to a couple of short instructional videos related to both sets of phonics cards we currently have available.
Success Reading Basic and Advanced Phonics Cards: https://www.youtube.com/watch?v=JptJfbEIglk
Success Reading Phonics Game Cards: https://www.youtube.com/watch?v=Htpc3CA2Ugo
We currently are in the process of writing and making available a very comprehensive set of instructions for parents and educators to show them in detail how to best use each set of our phonics cards. This will probably be called the Success Reading Basic Phonics Instructional Manual, but we're still working on the name. This manual will include full lesson plans along with detailed instructions. There will also be activity sheets for students to work on which will help not only support and build on what the student has learned by using the phonics cards but will also contain additional information that will help students increase their overall reading skills.
In the meantime, the two short instructional videos above will help get the basic idea across for how to use these cards.
For maximum benefit and success with using the Success Reading phonics cards, please follow the steps below:
1) If you haven't done so already, purchase a set of the Success Reading Basic and Advanced Phonics Cards:
http://www.successreading.org/product/basic-and-advanced-phonics-cards/
2) Read the instruction cards that come with each set of cards.
3) Watch the YouTube videos at the top of this blog post for an example of how to use the cards. (More detailed information will be available with the manual when it is available.)
4) Ask about our "hidden" website pages in which you can hear all the phonic sounds made by each letter of the alphabet and each set of letter teams. You can practice these along with Polly on this page. (This will be available soon but will only be available to those that join our VIP list of customers. To become a VIP customer, simply purchase a set of phonics cards and then use the "Contact us" form on our site to request being added to our VIP Customer list. Please also include the order number for your purchase of the cards. Use this link: http://www.successreading.org/contact-us/)
5) You can also use our "Contact us" form to ask about our upcoming Instructional Manual which was mentioned above. http://www.successreading.org/contact-us/
We welcome any comments or questions on our blog or on YouTube.  Let us know what you think about the videos above.  Do you find them helpful?  Is more needed?  Let us know.  In addition to the "contact us" page on our website, you can also contact us by clicking on any of the social networking icons at the top or bottom of this blog page.
Thank you and have fun!
Note: Reading should be fun.  If your child is not interested in reading or is having difficulty working with our cards, let us suggest that you first review one of our earlier blog posts: http://www.successreading.org/prepare_your_child_for_reading/.
If you need some very specific help or instruction, please contact us so that we can set up an appointment for a telephone consultation with Polly, the developer of our phonics program. Consultations are currently at the rate of $20.00 per half-hour. (http://www.successreading.org/contact-us/)
© Copyright, Success Reading, Inc. 2015.