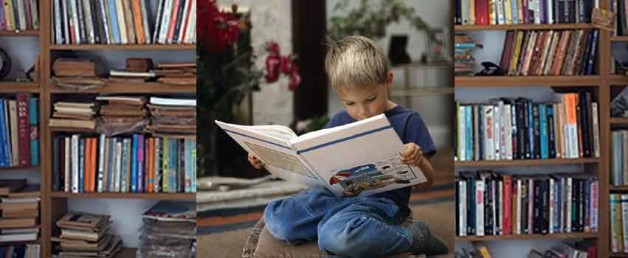 " I find television very educating. Every time somebody turns on the set, I go into the other room and read a book."   Groucho Marx
One of the first questions I ask a student I work with is: "How often do you read?"  The answers vary of course, but approximately 60% will say they read about one book a year, but only because they have to do so for school.  Another twenty percent say they never read and say, "I hate reading." Then there is another twenty percent or so of students that say they read regularly and enjoy it very much.
When I was young my mother did not like television and with excellent perception and foresight, she felt it did not create enough imagination for children, so I was limited as to how much TV I could watch.  I was given a choice of one program I could watch each night so I had to choose wisely.  Of course, in those days we only had four stations to choose from and only three of them were network stations. So, I picked out my one show to watch and spent the rest of the time reading books.  I read and read and read.  From a very early age I loved mysteries, biographies, comedies and historical fiction. The first book I remember reading was The Cat in the Hat.  That cat sure annoyed me, and I was so angry with him, but I kept on reading to find out what would happen next.
Books engage us.  They expose us to current culture as well as history and even the future.  I don't preach to never allow TV; however, I do advocate for more reading.  Some ways I suggest to do this is to let your child see you turn off the TV and open a book.  You could also read aloud to your child at bedtime.  Talk to your child about a book you are reading or have read and what you like about it or what makes it interesting.  You could also make up stories while driving with your children and have them contribute to the story, or encourage them to make up their own.
How does one teach a child to read so they can develop a love of literature?  It starts with a good reading program that builds confidence and allows a child to sound out unfamiliar words easily.  (This is often called "decoding.")  The second step is to build vocabulary.  Vocabulary involves not just knowing words but knowing what they mean and how to use them.  With these two components one becomes a skilled and competent reader.  If one can read the words of a book or story with understanding, new horizons open up for one; Cats in hats, talking lions, frogs and toads who are friends, the life of a little girl or boy a 100 years ago, or a visit to a far off planet.
I recently read an article from the NY Times regarding Steve Jobs, founder of Apple.  The interviewer was shocked to discover that Mr. Jobs limited the time his children spent on iPads and other electronics.  Below is an excerpt from his interview with Mr. Jobs:
"So, your kids must love the iPad?" I asked Mr. Jobs, trying to change the subject. The company's first tablet was just hitting the shelves. "They haven't used it," he told me.  Steve also said, "We limit how much technology our kids use at home."
The interviewer also said that every evening Steve made a point of having dinner at the big long table in their kitchen, discussing books, history and a variety of things.  He said that no one ever pulled out an iPad or computer at the dinner table and the kids did not seem addicted at all to electronic devices.
So with that in mind, let's get our kids reading and thus create a future of creative thinkers.
Polly